OUR HISTORY
1991
In July, the representatives of the following associations met: Centre québécois de la déficience auditive (CQDA, which has become ReQIS); Association des adultes avec problèmes auditifs (AAPA, which has become CCSMM); Association des devenus sourds et malentendants du Québec (ADSMQ, which has become Audition Québec); and Association du Québec pour enfants avec problèmes auditifs (AQEPA).
All supported the proposal that the interpretation service provider must be a not-for-profit organization and that its creation would be entrusted to Institut Raymond-Dewar (IRD) as part of a two-year mandate.
The first official report produced by IRD for Conseil de la santé et des services sociaux de la région de Montréal Métropolitain (CSSSRMM) was tabled in December.
1992
In May, the first meeting of the provisional Board of Directors was held and was attended by government health and social services representatives: 
Pierre-Paul Lachapelle (IRD)

Marcelle Paulette (OPHQ)

Anne-Claire Marcotte (C

SSS

R

MM)
And by representatives from organizations championing deaf and hard of hearing people: 
Solange Pitre (RSAQ)

Liliane Corbeil and Léon Bossé (ADSMQ)

Jacques Raymond (CAE)

Jean-Yves Vachon and

 

Gilles Read (CCSMM)

Valérie Bertin (ASLM

)

Suzanne Cyr (AQEPA)
Service d'interprétation visuelle et tactile (SIVET) is established
The official launch of the organization's services took place on December 14, 1992, following a year and half of discussion and nineteen meetings by the provisional Board of Directors.
1999 – 2000
A change was made in the status of interpreters at SIVET, who were now salaried staff rather than self-employed service providers.
2001
In October, the first collective agreement was signed. Five (5) full-time interpreter positions were created.
2011
SIVET adopted its first code of ethics.
2012
In December, a day of discussion focusing on VRS was held at UQAM. The event, which was organized by Anne-Marie Parisot, Alain Turpin, and Suzanne Villeneuve, brought together key figures from across Canada, including Gary Malkowski, Frank Folino, Daniel Forgues, Ophélie Sylvestre, Louis Houbart, Marion Blondel, Natalie Baril, and Yvon Duteau. 
2013
CRTC public hearings on launching VRS in Canada 
On October 24, 2013, Anne-Marie Parisot, Alain Turpin, and Suzanne Villeneuve took part in the CRTC's hearings on the feasibility of launching VRS. They made a 20-minute presentation, which was followed by an hour-long question period. They defended a VRS operating model based on specialized social and community interpretation service providers that would be responsible for supplying VRS. This model was described in a document submitted to the CRTC in May by SIVET and UQAM.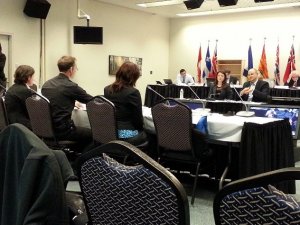 2016
Following a long selection process, SIVET was appointed as the French-language (LSQ) interpretation service provider by the Canadian Administrator of VRS (CAV) on March 18, 2016. Later, SIVET took part in building of two new call centers to welcome VRS interpreters in Montreal and Quebec. SIVET has opened six Team Leader positions to ensure smooth and effective operations.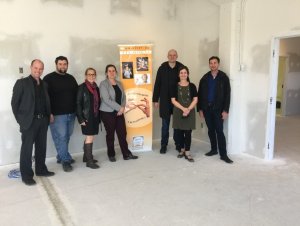 The call centre was inaugurated in Montreal on September 1, 2016.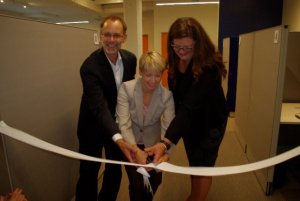 The official launch of SRV Canada VRS took place on September 28, 2016. 
2017
Sivet inaugurated a third call center in the Laurentides region.
The regional interpretation service providers adopted a code of ethics, which is used by all social and community-based interpreters in Quebec.
Code of ethics (in French only)
2018
SIVET celebrated 25 years of operations and unveiled a new logo. 
SIVET selected a new name-sign following a survey conducted in the deaf community.